Practice updates 2019 scheme after luxury-hotel operator pulls out of project
Westminster City Council planning officers are recommending approval for reworked proposals from Foster & Partners to redevelop a 0.25ha site in Mayfair with a mixed-use scheme featuring new homes, a hotel, office and retail space, and bars and restaurants.
Fosters first secured consent to replace the buildings currently the site, which is bounded by Grafton Street, New Bond Street and Bruton Lane, in 2019. However the planned hotel operator for that scheme – LMVH's Cheval Blanc – pulled out of the project during the pandemic.
Members of Westminster's planning committee are being told that the 2022 incarnation of the scheme is "largely similar" to the consented version. However the single main building fronting Grafton Street that was originally proposed for hotel use is replaced by two separate buildings, , only one of which woud be a hotel.
Nevertheless, the latest proposals include 94 hotel rooms – one more than the consented scheme. The 2022 version is also 12 storeys tall at its highest, whilethe 2019 scheme was 11 storeys. (See gallery below)
Among the buildings to be demolished for the redevelopment are a 1970s office building designed by Seifert & Partners.It contains a grade II-listed shopfront, at the former branch of jewellers Wartski, which will be dissembled and incorporated into the new development under the proposals.
威斯敏斯特规划官员将修改后的提案提交批准,他们表示,新建筑的详细设计与它所在的梅菲尔保护区的历史特征和发展外观"和谐"。
"The use of brick for the Grafton Street façade and the chosen brick colour, combined with the height and detailed design of the new façade, enhance the setting of the nearby listed buildings by recreating a sense of the 18thcentury architectural rhythm of the street that was lost in the 1960s," they said.
"The roof form is an attractive feature including a focus for the view north along Albemarle Street. There are also major architectural improvements in Barlow Place and Bruton Lane."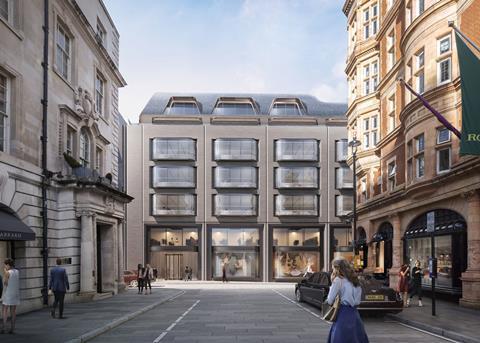 官员们承认,该计划最高的部分将比塞弗特大楼还要高。
But they said Fosters' proposals were "better designed" and integrated into their surroundings.
"Key views of the site from surrounding streets have been provided, and in all these views the development will be an improvement in comparison to the existing buildings as a result of the improved façade designs and more appropriate palette of materials," officers said.
"The development as a whole will therefore enhance the character and appearance of the conservation area and the setting of surrounding listed buildings."
They added that the latest incarnation of the scheme excluded a porte cochere on Grafton Street that was part of the approved scheme, in a move "considered to be an improvement".
Officers said a new hotel operator had yet to become involved in the proposals, and O&H was now seeking approval for the scheme to be developed in two phases.
Westminster's planning committee meets at 6.30pm on Monday to consider the application.