Chipperfield and Feix and Merlin beat a field of six runners to win the commission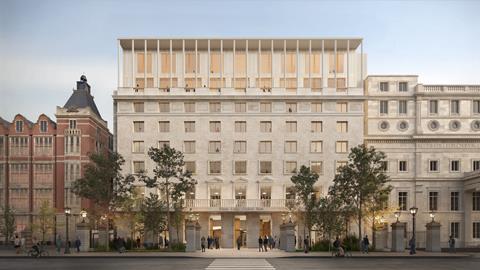 David Chipperfield Architects with Feix and Merlin have been announced as the winners of a limited competition to design a new £100m-plus academic building for the London School of Economics on Lincoln's Inn Fields.
David Chipperfield said: "We are delighted to have been selected by LSE to design the new Firoz Lalji Global Hub. We have embraced the ethos and mission of the new centre to address global issues through our strategy of adaptive reuse.
"Our project demonstrates how the reuse of existing buildings can be seen not as an obligation but as a commitment to a more resourceful and responsible approach to our future, based on intelligent use of existing material and cultural capital.
"We believe that the cultural and educational ambitions of the Firoz Lalji Global Hub are reflected in the design process itself the highly coordinated engagement of the team, client and context."
The RIBA's architect adviser to LSE Cindy Walters said the competition attracted architectural practices of the highest calibre from around the world, and that more than 100 expressions of interest had been received.
The six design teams included Alison Brooks Architects, with Nigerian practice Studio Contra; David Chipperfield Architects with south-east London-based Feix & Merlin Architects; and John McAslan & Partners, working with US practice Tod Williams Billie Tsien Architects .
Also in the running to redevelop the former Royal College of Surgeons building at 35 Lincoln's Inn Fields for the project were Belfast-based Hall McKnight; Feilden Clegg Bradley Studios working with Danish practice Lendager; and a joint bid from Denmark's Dorte Mandrup with John Robertson Architects.
The building will house the Firoz Lalji Africa Institute, Executive Education, the Departments of Mathematics, Statistics and Methodology, the Data Science Institute and conference facilities that will help to connect and engage LSE's global community.
LSE's brief was for a new academic building of 12,540 sq m. The project is also expected to be LSE's first net-zero carbon building.
When he launched the RIBA-run competition in December, LSE director of estates Julian Robinson stated that project at 35 Lincoln's Inn Fields waslikely to be the university's last major building project for the foreseeable futureand "has to be an outstanding piece of architecture, further enhancing the reputation and brand of LSE".
The LSE jury panel included Baroness Minouche Shafik (Director of LSE, Chair), Firoz Lalji (LSE alumnus and donor), Sir David Higgins (Chair of LSE Finance and Estates Committee), Julian Robinson (Director of Estates), Professor Ricky Burdett CBE, Professor Pauline Barrieu (Chair of Academic Board), Josie Stephens and Tilly Mason (LSE Students' Union General Secretaries) and Shelley McNamara (Grafton Architects).
伦敦政治经济学院院长、评委会主席Dame Minouche Shafik评论说:"我们做出这个决定很困难,因为提交的作品质量非常高,但我很高兴地宣布,David Chipperfield Architects和Feix和Merlin事务所赢得了Firoz Lalji全球中心的设计竞赛。
"This sustainable design solution follows the ethos of LSE, taking an existing building and adapting it for the 21st century. I have no doubt it will further enhance LSE's status as a university with a world-class estate that matches its global academic reputation."
Julian Robinson, Director of Estates said: "This was our toughest competition yet! A multi-faceted brief and a requirement to deliver the School's first net zero carbon building was a challenge for both the competing teams and LSE. As our last set piece project, it was essential we took time to get this decision right. We appreciate the enormous amount of intellectual creativity and effort expended by the competitors, but we could only select one winner.
"We believe David Chipperfield's design was the most sustainable solution that achieved our brief requirements and provides LSE with a seminal piece of university architecture. It's an inspiring design and I look forward to working with David Chipperfield and his team to deliver another outstanding project for the School."